TAX RESOLUTION BOOT CAMP
4 Days - 24 Hours of CE/CPE Technical Education
If you are like many of our members, or past Boot Camp graduates, you're tired of relying on hundreds of tax returns every year to make a living. The American Society of Tax Problem Solvers shows you how to escape the tax return grind and use your existing credentials to diversify your practice and gain a steady stream of business year round.
After investing so much to become a CPA, EA, or Attorney why wouldn't you want to earn the highest fees you are capable of?
We get asked often just how much can tax resolution specialists expert to earn working on a resolution cases. Below you will find sample fees charged by tax problem resolution practitioners for different cases.
• Offers in Compromise $3,500.00 – $6,000.00
• Employment Tax Representation $3,500.00
• Trust Fund Recovery Penalty $3,500.00
• Installment Agreements $1,750.00 – $3,000.00
• Innocent Spouse Representation $950.00 – $3,500.00
• Penalty Abatement $650.00 – $1,150.00
• Release of Bank or Wage Levy $750.00
These are just a sample of the fees you could earn by incorporating tax resolution services into your firm. Each case is unique and the fees will depend on your location and the work involved. You will learn how to use these different tools to solve your clients problems and much more at Boot Camp.
3058
Boot Camp Attendees Since 2003
Coming into this program I had little knowledge of the area. After the Boot Camp I can't wait to take on my first case. This Boot Camp has given me the confidence I needed to move toward a tax representation career.

Sarah Staab
No better program I am aware of better prepares the tax professional to immediately gain the knowledge and confidence to enter the tax resolution business!

Warren Banfield, EA
Read 523 More Reviews
The ASTPS Boot Camp is a two and a half day technical course on IRS Tax Problem Resolution. In this hands-on workshop, you will take away the skills needed to provide professional representation services to troubled taxpayers.
The wide variety of topics covered are those encountered in the day-to-day practice of representing troubled taxpayers before the IRS. The speakers have extensive experience specializing in this discipline and presents the subject matter through lecture, war stories, interaction with the attendees, and hands-on practice cases.
When you leave you'll know:
How to properly file an 8821 & 2848
How to secure information from the IRS
How to correctly prepare IRS forms
IRS notices and critical dates
Essential case planning techniques
How to abatement penalties
How to get an Installment Agreement
How to file an Offer in Compromise (and get it accepted)
Trust Fund Recovery Penalty Rules
How to win in Appeals
How to analyze a case like a pro
Find a Boot Camp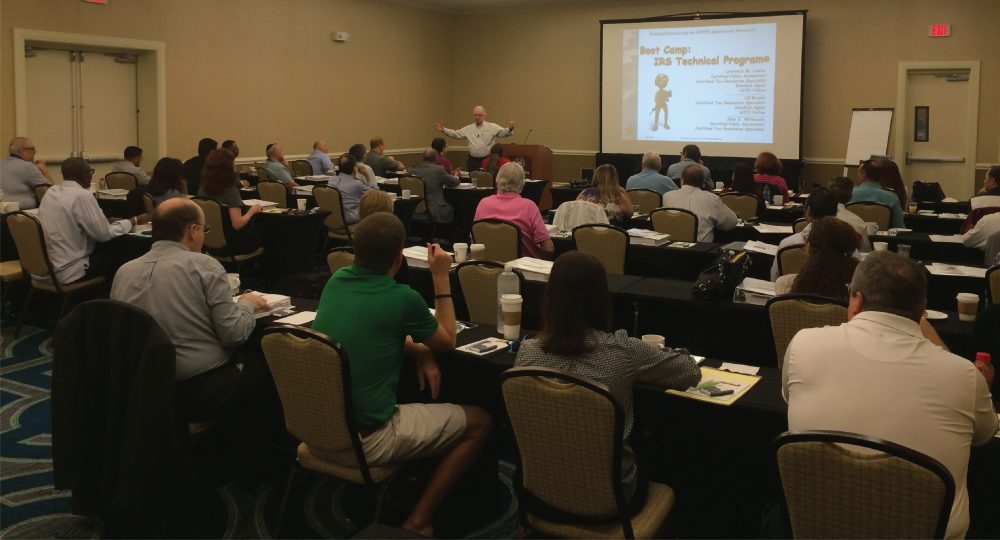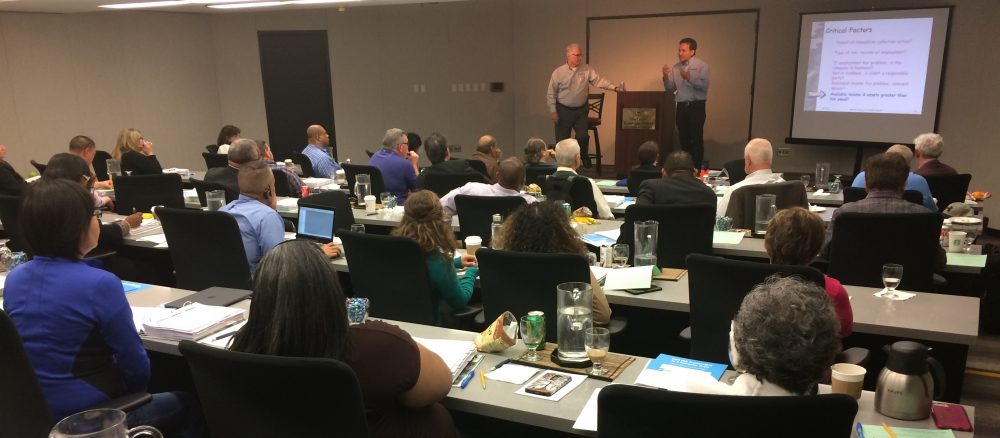 3rd year in a row I've been here and every year I learn a little more, and understand the material more. It's great!

Robert Lewin, EA
You're probably tired of wasting today chasing the fees you earned yesterday. A great benefit of tax resolution work is tax resolution fees are typically paid in advance. This ends the receivable collection problem.
You might be asking yourself – How is someone with tax problems going to pay my high fees? At the IRS Tax Problem Resolution Boot Camp you will learn how to quote these fees and get the IRS to cover them!
Find a Boot Camp
CONTINUING EDUCATION WITH SERIOUS MONEY MAKING POTENTIAL
At the Boot Camp you will receive two and a half days of hands on training by Certified Tax Resolution Specialists eligible for 24 hours of Continuing Education.
ASTPS is accredited by NASBA, the IRS, and attorneys are more than welcome to submit the credits to their state bar for credit. ASTPS will provide you with whatever supporting documentation is required submission.
More often than not Boot Camp attendees don't attend just for the Continuing Education, but instead look at it as a bonus of Boot Camp.
YOUR INSTRUCTORS ARE TAX RESOLUTION EXPERTS
There are 3 instructors that are certified to teach the Boot Camp. All of our instructors are current tax resolution practitioners who are actively working cases. Each live event will have at least 2 instructors, but several will have all three. Please look at the individual event page to see which instructors will be in which city. Please take a moment and read about your instructors below.
Larry Lawler, CPA, EA, CTRS, NTPI Fellow
Larry is the National Director of the American Society of Tax Problem Solvers (ASTPS). Larry has represented literally thousands of taxpayers before the Internal Revenue Service and is a frequent public speaker, a writer on professional topics, and a regular trainer of tax professionals nationwide. He is a dynamic and knowledgeable speaker who offers a mix of information, personality and humor in his presentations and interviews. His audiences enjoy him as much as he enjoys speaking. He has become nationally recognized for his skills in solving tax problems, his marketing expertise, and exceptional practice management abilities. He has been a New York Certified Public Accountant since 1973. He is also a fellow of the National Tax Practice Institute. Larry is the managing partner of Lawler & Witkowski, CPAs, PC, the firm he established in 1973.
LG Brooks, EA, CTRS, NTPI Fellow
LG  is the former CEO of U.S. Tax & Consulting Group and as of January 1st 2019 he is a Senior Tax Resolution Consultant at Lawler and Witkowski CPA's. LG has been in the field of taxation for more than 29 years and has been in practice full time since 1990. LG is a member of several tax-related organizations and his tax practice includes Tax Representation, Tax Consulting, Tax Preparation and Pre-Tax Court Litigation Support Services. LG received a Bachelor of Arts degree from Bishop College at Dallas, Texas in 1977, and is a Fellow of the National Tax Practice Institute (NTPI) and is currently a faculty member of the National Tax Practice Institute (NTPI) administered by NAEA.
Steve Klitzner, Esq., CTRS
Steve is the CEO of Florida Tax Solvers. His practice in Miami is 100% focused on IRS Tax Resolution. Steve has presented at many ASTPS conferences in the past and is the newest member of the Boot Camp Training Team. He is admitted to the United States Supreme Court, United States Tax Court, United States Court of Appeals for the Fifth Circuit, and the United States District Court for the Southern District of Florida. Steve is a frequent lecturer on Tax Resolution topics and has presented to thousands of practitioners around the country. He is well known for the humor he brings to his presentations!
Attorneys, CPAs, Enrolled Agents, and all tax professionals who wish to make more money in their existing practice by gaining the tools needed to confidently represent taxpayers before the IRS. No prerequisite knowledge is required beyond that common to a CPA, EA, or Attorney. There is no advance preparation required.
We don't abandon you after Boot Camp is over. We are always just a phone call away. During the 30 days following your Boot Camp you will have a onetime phone consultation with Certified Tax Resolution Specialist and ASTPS National Director Lawrence Lawler. Membership options are also available to continue your education and support. Plus you are also always welcome back at Boot Camp with a 50% discount forever.
100% MONEY BACK GUARANTEE
We are so sure that you will be 100% satisfied with our program that we are willing to give you a FULL REFUND if you are not! At the end of the first day, simply turn in your materials and we will gladly refund your registration fee.
After taking the two day boot camp, I feel like I am better able to assist my current clients as well as confidently expand my business to include tax resolution services.

Susan Hackman, CPA
Read 523 More Reviews
BOOT CAMP REGULAR PRICE: $1,097
Register 2 weeks prior to the event and receive $100.00 off your registration.
NON-MEMBER
EARLY BIRD DISCOUNT
$

997.00

First Attendee

2nd Attendee $897.00
3rd Attendee $797.00
4th Attendee $697.00
5th Attendee $697.00
6th Attendee FREE
STANDARD
EARLY BIRD - 5%
$

947.15

First Attendee

2nd Attendee $852.15
3rd Attendee $757.15
4th Attendee $662.15
5th Attendee $662.15
6th Attendee FREE
PREMIUM
EARLY BIRD - 15%
$

847.45

First Attendee

2nd Attendee $762.45
3rd Attendee $677.45
4th Attendee $592.45
5th Attendee $592.45
6th Attendee FREE
To Register Multiple Attendees Please Call (716) 630-1650
Ready to register? find a boot Camp!